If you've ever felt getting in-depth, specific advice on your website would help improve your advertising strategy for Shopify, get a full website audit! Read below to learn more about the benefits of a site audit, and how they help increase sales on Shopify.
Why is a Website Audit Important?
To begin, a website audit assesses the structure, function, useability, and overall "look" of your e-commerce store. Specifically, site audits ensure you know what changes to make to increase your sales on Shopify, and how to change them without affecting your store!
Therefore, getting a fresh evaluation of your online store's presentation helps boost conversions by improving the user experience and upping your site rank on Google!
What are the Key Factors a Website Audit Analyzes to Increase Sales on Shopify?
SEO Content & Online Display
First, do you have well-spaced paragraphs? Second, is everything grammatically correct? Third, is text organized so the page design looks seamless? Finally, what about keyword phrases and long-tail keywords? Site audits review solutions to the most pressing questions regarding your online presentation.
In addition, site audits also evaluate your social media presence and engagement levels through market data analysis.
2. Website Speed & Technical Performance
Site audits make sure your site is literally "up to speed" and loads quickly with no broken links. Otherwise, the user experience suffers – and so does your Shopify paid advertising!
3. Design Features that Boost Conversions
Knowing where to put your "call to action" (CTA) buttons can make a huge difference in your sales conversions – same with toolbars, ad popups, and your overall site presentation!
As a result, it's not one big thing, but a bunch of little mistakes may be affecting the user experience. So, if you want a service to ask a whole bunch of questions related to "What can I do to improve my e-commerce store and my Shopify paid advertising?" get yourself a website audit ASAP!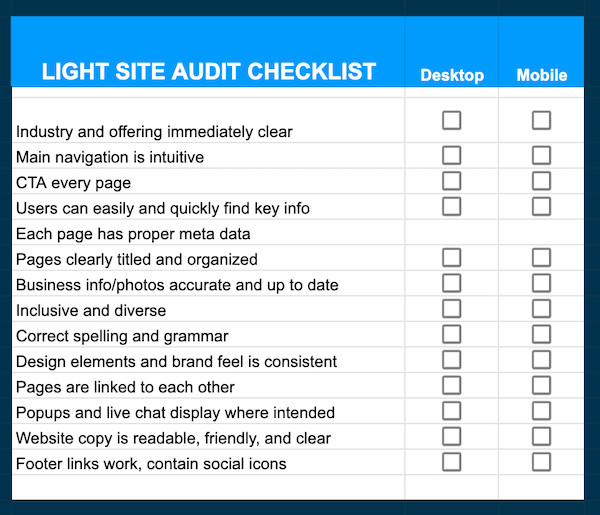 Ad360 Offers Free Website Audits to New Clients
Want the support of a step- by-step review of your e-commerce store?  To expand our business, Ad360 is currently offering a free in-person website audit.  Get all your questions answered in a valuable, step-by-step evaluation. Above all, we'll provide actionable insight for how to make your e-commerce store stand out from the pack 😉
Get our free website audit to help Increase Sales on Shopify today!